2024 Yamaha UTV Lineup: Top 5 Models Revealed | Waynesburg Powersports
Wondering what UTV to buy?
In usual Yamaha Motor Corporation fashion, team blue has delivered an amazing batch of SxS machines for 2024. Today, we're introducing the top 5 Yamaha UTVs for 2024. This lineup of Yamaha side by sides includes everything from utility 2-seaters and 4-seaters to pure sport performance models designed for those born to go fast. Explore the capability, reliability, and value that both new and longtime members have learned is standard from Yamaha — all in one place!
With features such as increased storage, smooth power delivery, advanced suspension engineering, intuitive touchscreen displays and more – the lineup has something for everyone looking to get a little muddy this season. Whether you're headed out on your own or bringing your family along for an unforgettable ride — Yamaha is here with vehicles equipped with cutting edge technology that will keep you comfortable and safe wherever you decide to explore.
What Side-by-Sides does Yamaha make?
In this post, we'll give you an overview of the entire lineup from proven favorites to the limited edition models, then drop our top 5. So read on and find out what machine is made for you!
2024 Utility SxS lineup
The Yamaha Utility Side-by-Side lineup consists of four models to choose from – Viking EPS, Viking VI EPS, Viking EPS Ranch Edition, Viking VI EPS Ranch Edition. Each vehicle is built with durability and performance in mind, making them perfect for tackling the toughest terrain or the biggest jobs on the farm. From a fun mud run, a weekend trips on the trails, to getting the toughest jobs done— these SxSs are designed to work or play.
Viking EPS, Viking VI EPS, Viking EPS Ranch Edition, Viking VI EPS Ranch Edition are all powered by the powerful 686cc, liquid-cooled, SOHC, eight-valve single cylinder engine which provides reliable torque and plenty of power to take on anything you throw at it.
2024 Pure Sport Lineup
The ultimate pure sport side-by-sides, the YXZ1000R, YXZ1000R SS, and the YXZ1000R SS XT-R. With unparalleled comfort and capability, this Yamaha off-road vehicle delivers maximum confidence in any terrain - from open deserts and dunes to muddy and rocky trails. Built for off-road enthusiasts, the YXZ1000R SS combines legendary performance, durability, and reliability. The biggest news of the year, this line up comes with an optional six-speed automatic or a manual transmission. Any of the YXZ models deliver something great.
2024 Recreation Line
Boasting an impressive 13 different models, the 2024 Yamaha Recreation UTV lineup is almost guaranteed to have a model that fits the bill. From a 2 or 4 seat version of the 850, RMAX1000, or the new Wolverine X2 1000, these vehicles are designed to get you where you want to go quickly and safely. These things have high-end suspension, advanced electronics, comfortable seating and plenty of storage space – everything you need for a great experience on the trails.
So what's the best of the Yamaha side by sides? Let's get into the top 5 list of 2024's best Yamaha UTV's!
#5 Wolverine X2 1000 R-SPEC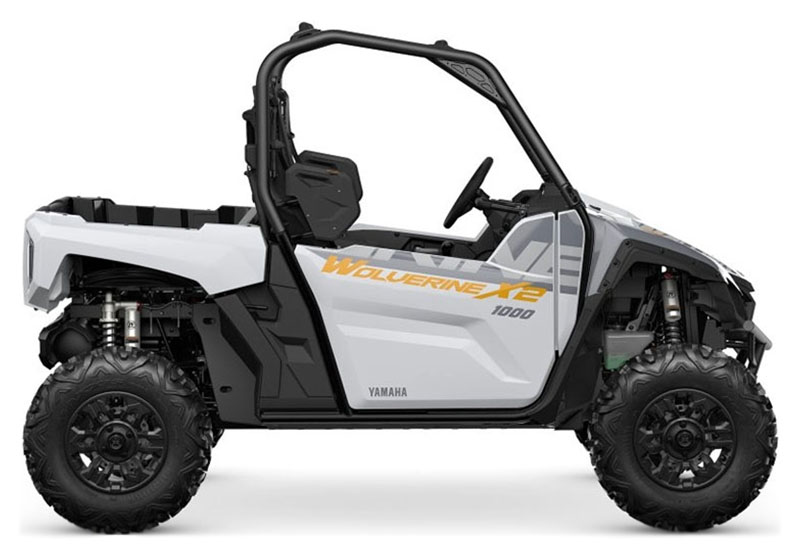 Base MSRP: $17,999
The Wolverine X2 1000 R-Spec is equipped with Adventure Pro® readiness and is compatible with Yamaha's exclusive GPS system. So you can unlock advanced trail-ready navigation and customize your ride with a Genuine Yamaha D-Mode accessory switch. This means you can choose between "Crawl", "Trail", or "Sport" power delivery settings so everything is ideal for your driving style.
The Wolverine X2 1000 R-Spec has an impressive 999cc DOHC eight-valve parallel-twin engine, drawing inspiration from the RMAX 1000. This means unmatched power Yamaha dependability, enhanced by the seamless performance of the Yamaha Chip Controlled-Throttle (YCC-T) system.
Reasons We Love It:
1,000cc motor in a Side-by-Side that is designed for tight and technical off-road situations equals an unbelievably fun machine. The compact chassis and great visibility from the cab makes driving this one a dream. Plus, the white and armor gray scheme looks pretty good.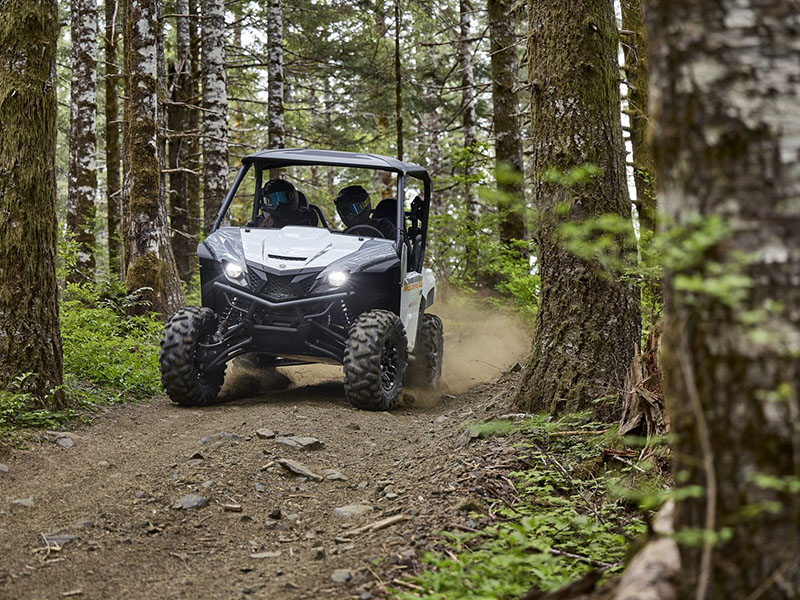 #4 Wolverine RMAX4 1000 X-TR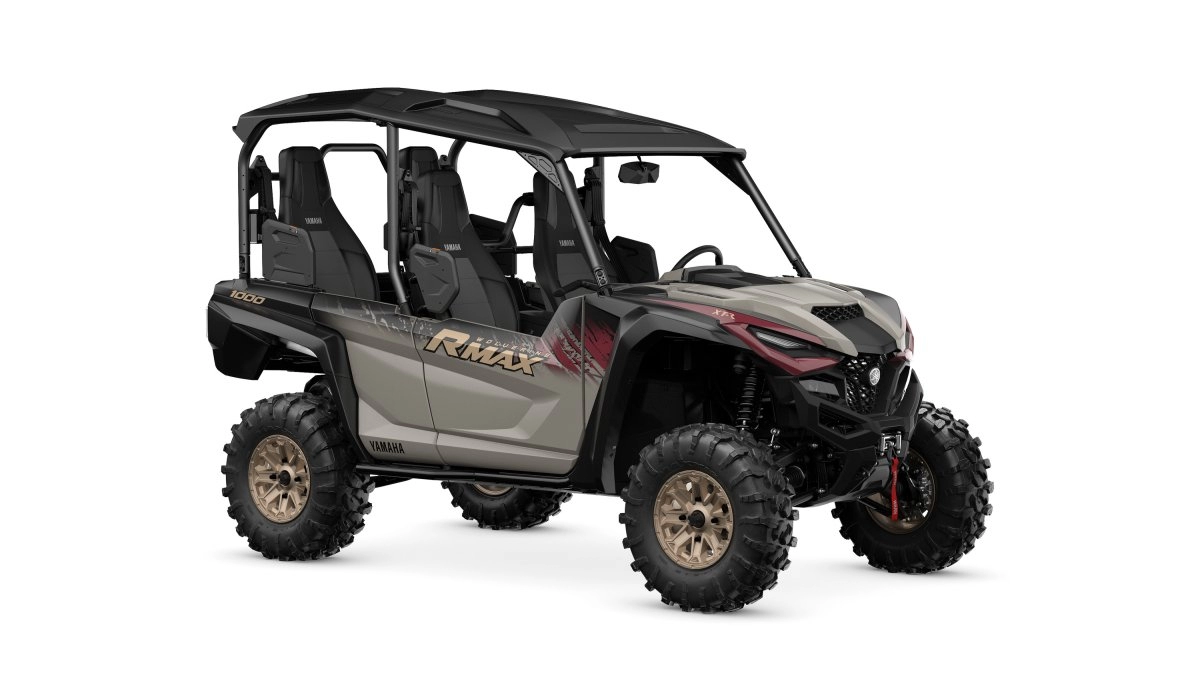 Base MSRP: $28,199
Wolverine RMAX4 1000 XT-R is the ultimate 4 seat companion. The X-TR package means this comes with Maxxis® Carnivore tires, a heavy-duty WARN® winch, advanced suspension, and a cool paint and graphics package.
Why we love it:
The X-TR is off-road ready. The three-position D-Mode teams up with Yamaha's Ultramatic® and On-Command® systems to give you a great mix of engine braking and power delivery. They also beefed up the frame that gives you some extra stability.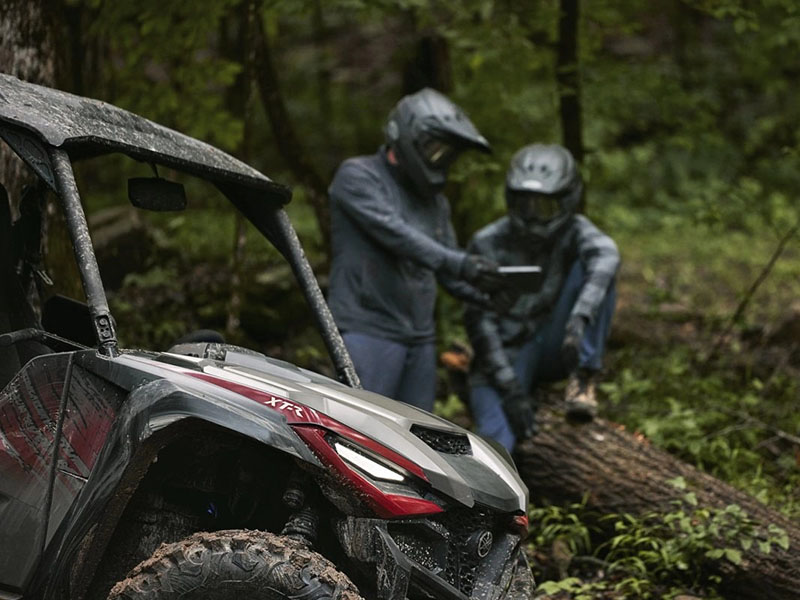 #3 Viking EPS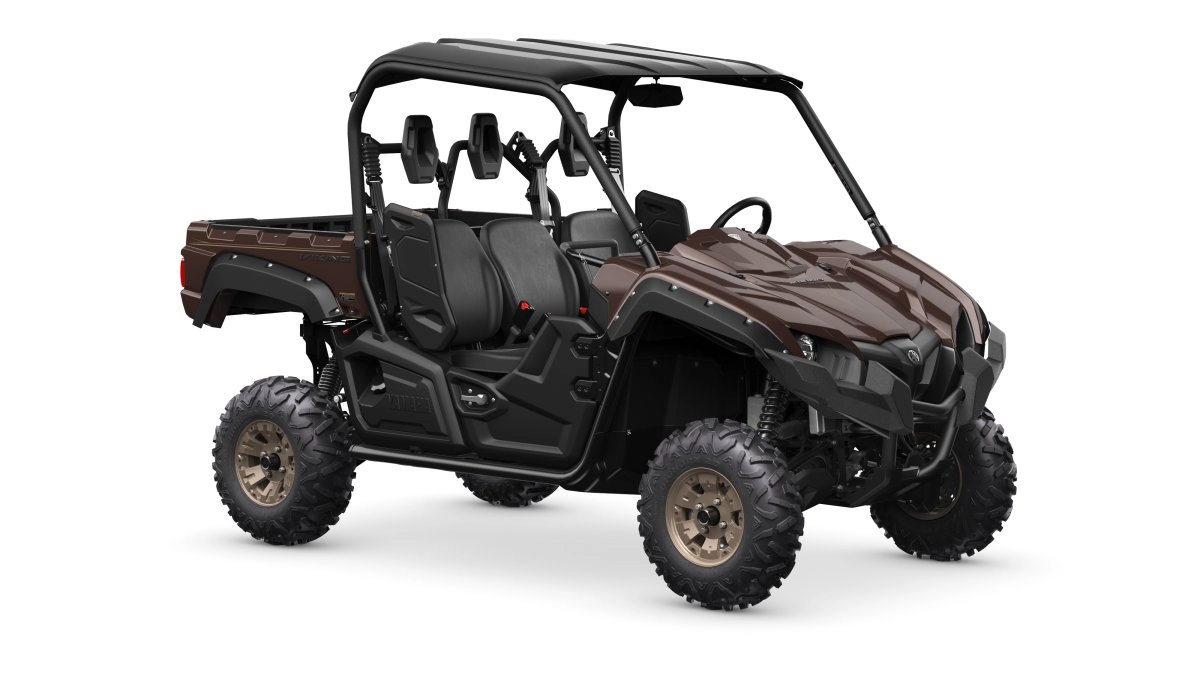 Base MSRP: $16,499
The Viking EPS is equipped with Yamaha's powerful 686cc engine that offers a wide, usable powerband perfect for getting the job done or having some fun. Its liquid-cooling system enables consistent performance, and its four-valve head with 10.0:1 compression ratio delivers great torque making it perfect for getting the job done.
Why We Love it:
Three-seat cabin: this thing is super nimble with its two seat chassis paired with 3 seat capacity. Perfect for those days out cutting trail or getting work done on the ranch or farm.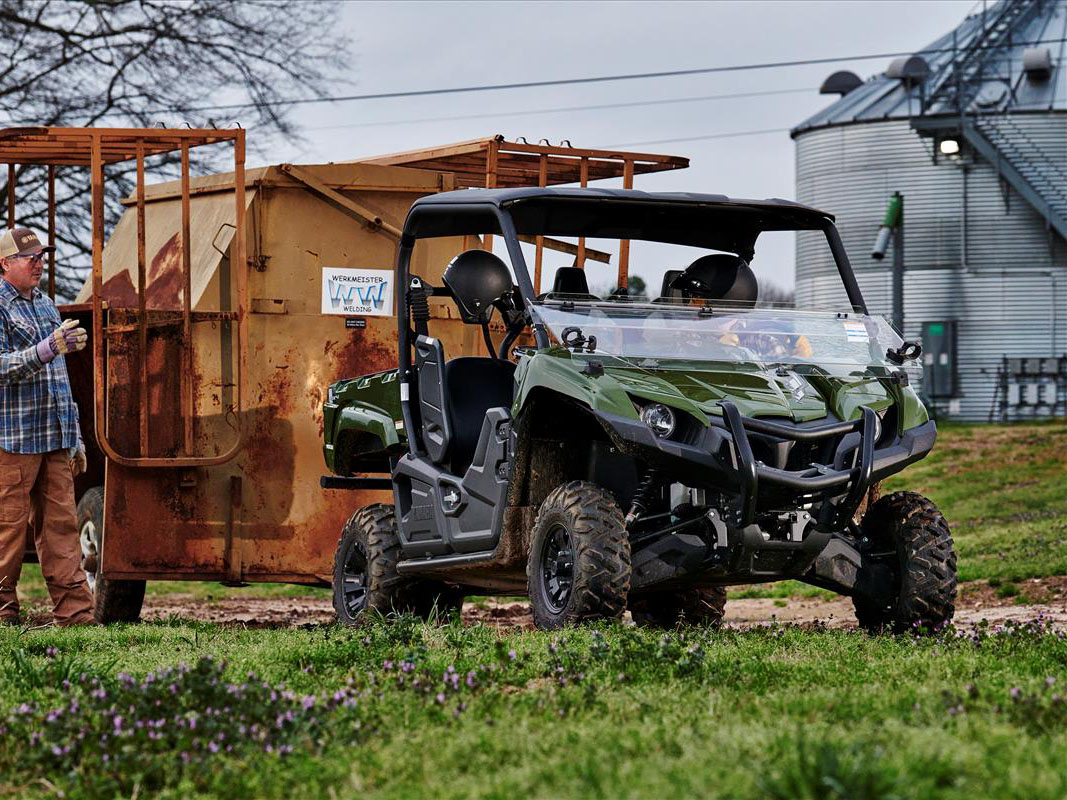 Three-Position On demand 4WD system gives you three power delivery options. 2WD, limited-slip 4WD, and fully locked differential 4WD puts the control in your hands to find the best option for traction whatever situation you find yourself in, or just to adjust to different driving styles.
#2 YXZ 1000R SS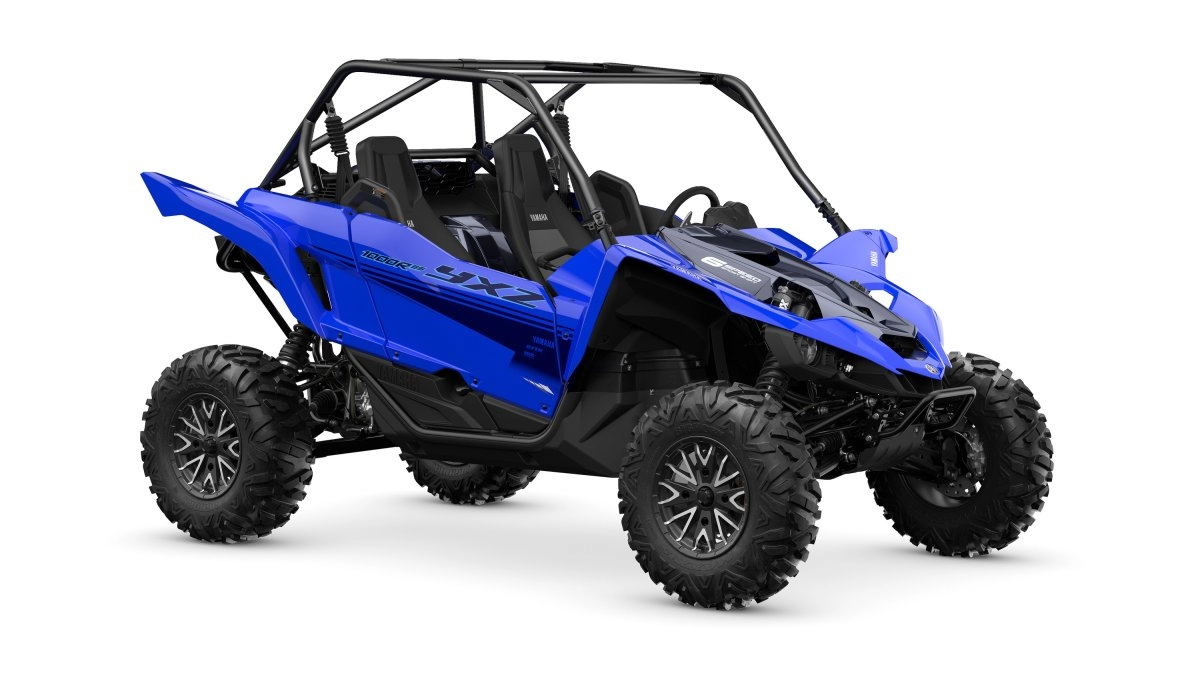 Base MSRP: $20,899
The YXZ1000R SS tops our list as the best of the Yamaha family. With its superior performance and reliable build, it gives off-road enthusiasts the confidence to explore a variety of terrains, from open desert and dunes to muddy and rocky trails. Whether you're seeking adventure or want to hone your driving skills, the YXZ1000R SS from Yamaha is the perfect companion.
Why We Love It:
The all new six-speed Yamaha auto-shift is amazing. You feel the connection you need to feel to drive this thing to the absolute limits, and if you'd rather be in complete control, just switch it to manual gear selection.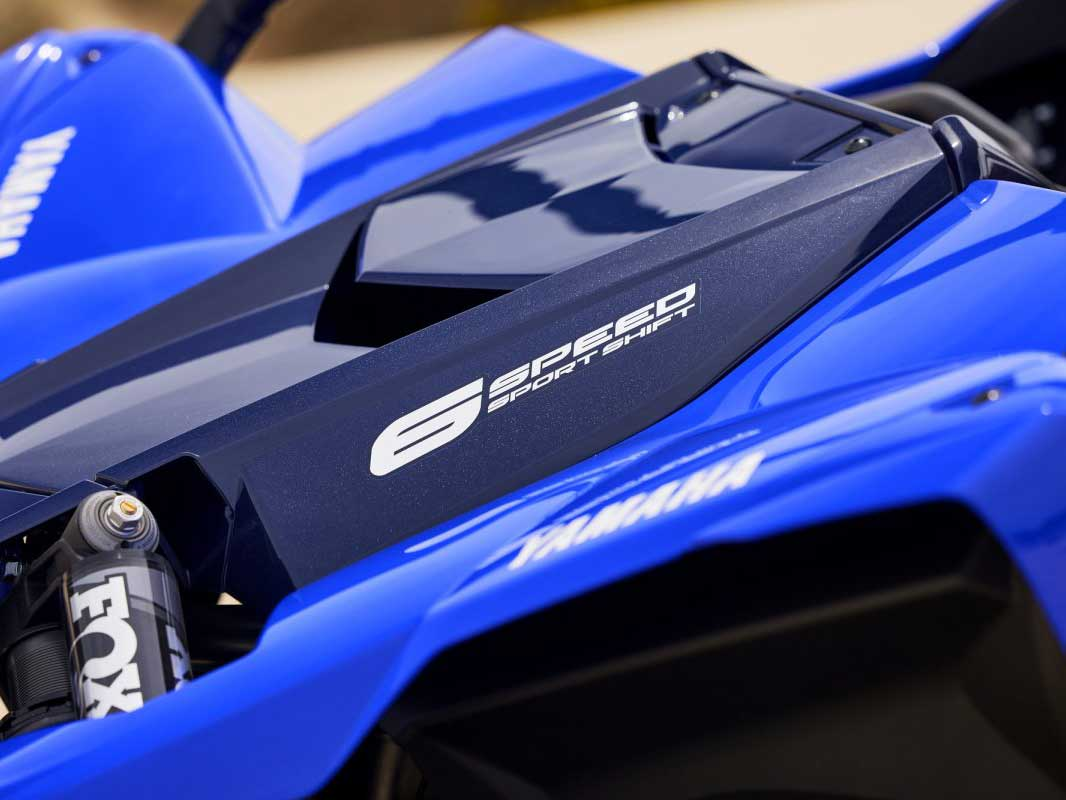 Full adjustable FOX 2.5 Podium RC2 shocks with dual-spring-rate adjustable crossovers. 16.2 inches of travel in the front and 17 inches of travel in the rear. Do we need to say anything more?
While this thing is fast enough from the factory, if you're looking for an upgrade, check out a YXZ1000R GYTR Turbo Kit
#1 Wolverine RMAX2 1000 Sport
Base MSRP: $24,899
Theres a lot to be said about the Yamaha Wolverine RMAX2 1000 Sport. It combines some of the best features of all the Yamaha side by sides to make one amazing package. Things like a center mounted rearview mirror, an unbelievable automotive-style interior, additional cargo space, steering assist, a comfort grip steering wheel, and that 999cc Paralell Twin Engine.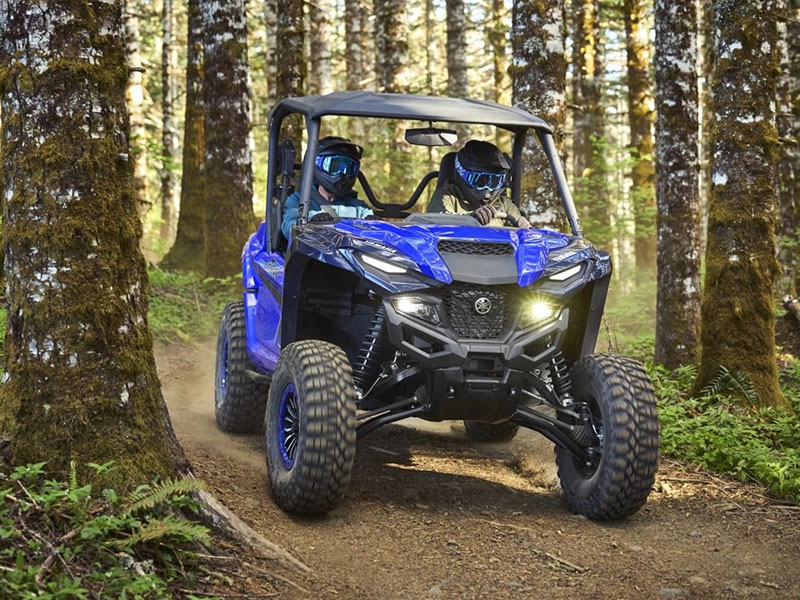 Why We Love It:
The Yamaha Wolverine is simply the machine you go to when you want optimal performance and the one of the best side-by-sides the powersports industry can offer. With tons of accessories to throw on, like an ssv works audio package, or an OEM Cargo Box you can customize this thing in endless ways. Not to mention, the team yamaha blue color way is timeless.
Frequently Asked Questions
Does Yamaha make good Side-by-Sides?
Absolutely. Yamaha side by sides are some of the best side-by-sides on the market. With their commitment to quality and customer satisfaction, you can be confident that you're getting a top-notch product that will provide years of dependable service.
What is the Top Speed of a Yamaha RMAX 1000 UTV?
You will get about 72MPH top seep out of an RMAX.
How fast is a Yamaha UTV?
Yamaha side by sides typically have a top speed of between 40 mph and 70 mph, depending on the model.
Where can I buy a Yamaha UTV?
There are Yamaha dealers nationwide, but we would love to see you at Waynesburg Powersports! We keep a ton of Yamaha side by sides in stock, and we are one of Yamaha Motor Corporations top dealers. You can see our inventory here.